Register
New Password
Chat window
View
Purchase
Today's Message :
MOTD: Join us: Register, wait for password, Login, Purchase,
If you need to refresh wait 40 seconds at least to settle.
Dunfermline vs Forfar Playoff 2nd Leg
Dunfermline will entertain a confident Forfar who have a 3-1 advantage for the return leg at East End Park.

Hopefully the Pars will be able to overturn the deficit to ensure they get to the play-off final.

For this they again need a good support
Read More ...
SFL Play Offs vs Forfar
Dunfermline head to Forfar on Wed 8th May for the first game in the double-header. Sign up for this game if you cannot travel to Forfar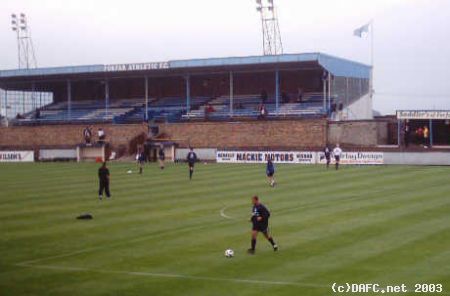 Friendly at Forfar (2003)
Read More ...
Scottish Cup Youth Final
Dunfermline head to Hampden, Wednesday 1st May 2013, with the U20`s for the Youth Cup Final. Hopefully many fans will go but we are allowed to stream this game for free !
Read More ...
Partick vs Dunfermline
The Pars head to Partick aiming for the 3 points that will help save their First Division place.

Apologies for the delay in getting the story up, too busy concentrating on other things this week.
Read More ...
Dunfermline vs Cowdenbeath
A very important game this week with Cowdenbeath buoyed up after their win against Raith Rovers. This will be a crucial play-off fight with the Pars currently 3 points behind Cowdenbeath with 3 games to go.

Please sign up early for this game to ensure you have access.
Read More ...
Greenock Morton vs Dunfermline
Pars TV will be back this saturday, we need your support also, more than ever - on and off the Park.

We need you to support Pars TV so that we can stay in business also so sign up if you can manage.
Read More ...
Dunfermline vs Hamilton
ParsTV didn`t run last week, but we are looking to get going again tomorrow depending on discussions. We need new subscribers to keep ParsTV going !

I have added a link to purchase for the game but if the plan falls through then I will refund your money (so apologies in advance if this happens).

You will have noticed that you can still buy a season pass, this would be the best way.

Next year we need to look at a new business model for Pars TV (we were a bit late in getting set up for the start of this season).
Read More ...
ParsTV
We are going to discuss with IMG the licencing issues for ParsTV to see if we can continue to stream games.

I don`t know if anything will come of this but will keep you informed.






Read More ...
---
Showing Page: 60 of 65. Other Pages:
1
2
3
4
5
6
7
8
9
10
11
12
13
14
15
16
17
18
19
20
21
22
23
24
25
26
27
28
29
30
31
32
33
34
35
36
37
38
39
40
41
42
43
44
45
46
47
48
49
50
51
52
53
54
55
56
57
58
59
60
61
62
63
64
65